For US businesses that depend on railroads to move goods, parts, and completed goods, this week is shaping up to be crucial.
To prevent a walkout that would have cost the world's most important economy more than $2 billion per day, railroads and labor unions worked throughout the weekend. The companies are warning consumers of potential service delays beginning today in anticipation of a possible walkout later this week because there was little evidence of progress.
Union Pacific and CSX also disclosed contingency preparations for a potential protest on Sunday. Norfolk Southern stated that it "has begun enacting its contingency plans for a controlled shutdown of our network at 00:01 on Friday, Sept. 16" in a web notification. To avoid any delays, BNSF advised its customers to communicate with members of Congress.
45% of Class I intermodal traffic, according to analyst Lee Klaskow, is carried by BNSF and Union Pacific together. 31% is CSX and Norfolk Southern.
According to government data for 2020, trains were the second busiest means of transportation after trucks, accounting for nearly 28% of all freight transfers in the US. The other half transports autos and manufacturing parts along with bulk commodities like food, energy, pharmaceuticals, metals, and wood products. The remaining 50% is primarily made up of cargo containers loaded with smaller consumer goods.
Whether there is a strike or not, there are still inequities in the country's freight train system. For instance, the delivery company Maersk announced earlier this month that it was stopping import bookings through Fort Worth, Texas, due to "extreme congestion" near train ramps and cargo yards in the area.
It's not an unusual circumstance. Trains are a crucial link in the interconnected system that is the lifeblood of the American economy, which is still recuperating from the biggest pandemic-related setbacks.
Here are some graphs to assist you to see where the supply-chain bottlenecks still pose a problem. The first one displays information from Hapag-Lloyd, the biggest container shipping company in Germany. From Los Angeles to Savannah, Georgia, the business states that dwell periods for its intermodal boxes are either remaining constant or increasing:
Stalled Containers
In the US, Hapag-Lloyd modal cargo dwell times have increased.
Source : Hapag-Lloyd intermodal operations
The twin ports of Los Angeles and Long Beach in California continue to encounter one of the more noticeable traffic jams that slow cargo transportation. According to data from the Pacific Commercial Shipping Association, there, nearly 80% of shipping containers are waiting more than five days on average to reach their train connections – a significant increase from the start of the year:
Railroad Bottleneck
Rail movement of shipping containers at the LA-Long Beach ports is sluggish.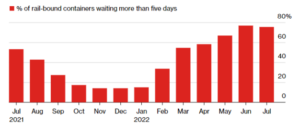 Source : Pacific Merchant Shipping Association
Texas has the greatest railway track miles of any state, but Illinois, and Chicagoland in particular, have long served as the most significant center of US intermodal trade. 25% of all US freight rail traffic and 46% of all intermodal traffic begins, ends, or travels through the Chicagoland region, according to the Association of American Rail lines:
Tracks Across the US
The two US states with the most rail miles are Texas and Illinois.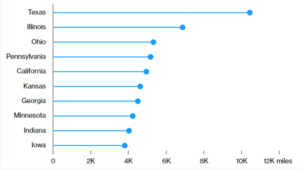 Source : Association of American Railroads, 2020
Even though 10 of the 12 railroad employees' unions have reached new labor agreements, there are still more than 90,000 rail laborers represented by the two strongholds, the Brotherhood of Locomotive Technicians and Trainmen and the International Association of Sheet Metal Air, Rail, and Road Transport Workers.
They didn't hold back in their joint statement on Sunday, accusing the railways of adopting "corporate terrorism-like" fear tactics during the negotiation process.
The trains shouldn't stop running at this time. The farm belt is about to enter harvest time, stores are storing up for the holiday season at the end of the calendar year, and the industry is already experiencing a period of poor growth and increasing prices.
In the case of a rail shutdown, perishable foods would have been the main issue. According to the American Bakers Association, even a brief stoppage would have a terrible ripple effect and lead to a lack of supplies and components.
—Brendan Murray in London